Fellow Profile: Laura Brade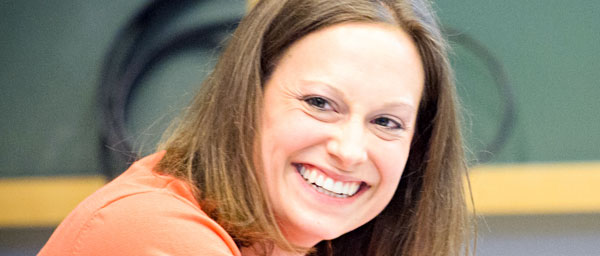 To help ensure that serious study and research of the Holocaust continues even after survivors are gone, the Saul Kagan Claims Conference Fellowships in Advanced Shoah Studies supports selected Ph.D. candidates around the world.
Laura Brade is a Kagan Fellow at the University of North Carolina-Chapel Hill, where she is a Ph.D. candidate in history. She first became interested in studying the Holocaust on an advanced level in an undergraduate Holocaust class at Pacific Lutheran University in Washington State. "The history department was in the process of creating an endowed Holocaust Studies program," she said. "Being active in the history department at the beginning of the Holocaust Studies program was incredibly influential for me, as it introduced me to advanced research in Holocaust studies and genocide studies as well as to survivor testimony collections."
Laura's dissertation focuses on Jewish emigration from Nazi-occupied Bohemia and Moravia between 1939 and 1941. "By focusing on emigration networks, I hope to complicate the traditional view of Jewish activism, which generally focuses on Jewish resistance as the archetype of Jewish agency. My dissertation argues that emigrants – who demonstrated a significant degree of agency and inventiveness in their escape attempts – are important examples of survivor experiences during the Holocaust," she said.
Laura participated in the 2013 Kagan Fellowship summer workshop at the U.S. Holocaust Memorial Museum in Washington, D.C. "The Kagan Fellows Workshop provided me with a wonderful opportunity to receive feedback on my research findings early in the writing process," she said afterwards. "The most rewarding aspect was meeting the other fellows and the senior scholars, and I'm looking forward to continuing the conversations next year in Jerusalem," she said, referring to the 2014 summer workshop to be held at Yad Vashem.