Guide to Services Funded by Claims Conference Grants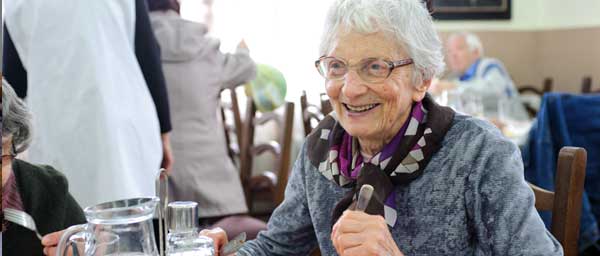 Capital 
The building or renovating of institutions in Israel that care for Holocaust survivors, such as nursing homes, day centers, and hospital wards.
Case Management
The ongoing involvement of an agency's social worker in the lives of a Holocaust survivors in order to help them obtain assistance and services that are needed and to which they are entitled. Case workers connect survivors with public and private programs, such as applying for government benefits; arranging for services such as meal delivery, transportation, medical care, and home repairs; filing claims for Holocaust- related compensation programs; and helping with payment of certain expenses when needed. Case workers assisting Holocaust survivors are especially trained to handle the sensitivities involved.
Center Activity
In the former Soviet Union, socialization programs for Holocaust survivors at a Hesed, including musical gatherings, lectures, discussions, arts and crafts classes, theater productions, choir practice and a variety of other programs. Each gathering is usually accompanied by tea and a snack. Frail Holocaust survivors with limited mobility are brought to the Hesed for these programs one or two times a month. During their time at the Hesed, these Holocaust survivors can partake of a meal, receive a medical consultation, get a haircut, or receive any other service available at the Hesed.

Client Transportation
Providing transportation to Holocaust survivors who need it to attend medical appointments and socialization programs.
Day Center
Subsidy for membership in a senior day center program, which provides socialization, meals, activities, and the opportunity to connect on a regular basis with a social service agency.
Emergency Assistance
Cash grants given to Holocaust survivors in need to help meet necessary expenses, including but not limited to rent to prevent eviction, medical care, medical products such as wheelchairs and hearing aids, eyeglasses, heavy duty housecleaning, utility payment, clothing needed for winter, food, and funeral expenses.
Food Program
Hot meals in a communal setting, home delivery of meals, or delivery of staple items to Holocaust survivors who are able to cook at home.
Friendly Visiting
Visits to the homes of Holocaust survivors by volunteers to provide companionship.
Hesed Mobile
In the former Soviet Union, a driver with a van brings food, medical equipment, medicines, and heating materials one to three times a month to Holocaust survivors residing in small isolated towns where few Jews remain. Most often, drivers are accompanied by Hesed coordinators who can assess the condition of Holocaust survivor clients. In some regions where this is not possible, the driver is the only link these individuals have to a Jewish community or to social services. In some cases, Hasadim purchase vans to replace Hesed mobiles that are no longer safe or if they are in need of an additional vehicle to transport Holocaust survivors to programs.
Home Care
Personal care provided to Holocaust survivors in their homes, to enable them to live at home for as long as possible. Includes assistance with activities of daily living such as bathing, dressing, and eating; administering medication; light housekeeping and cooking; and chores such as shopping.
Legal Services
Assistance with legal matters such as landlord/tenant disputes.
Medical Equipment
The provision of items such as walkers, wheelchairs, canes, or other necessary items.
Medical Program
Medical examinations and consultations.
Repair Workshop
In the former Soviet Union, Holocaust survivors can bring small appliances to a volunteer-staffed repair workshop at a Hesed.
Social Programs
Gatherings and events where Holocaust survivors can meet and talk with each other, finding companionship and care.
Supportive Communities
In Israel, a network for Holocaust survivors that provides emergency alerts, home repairs, and other services.
Training
In the former Soviet Union, Hesed staff are trained to provide the best possible services to Holocaust survivors.
Transportation
Providing transportation for Holocaust survivors to go to medical appointments, communal meals, social events, and day centers.
Vehicles
The purchase of vehicles to transport Holocaust survivors or deliver services to them.
Winter Relief
Assistance with items such as firewood, coats, and blankets, and with home modifications designed to better protect against cold.
Yiddish Theater
In Israel, Yiddish performances for Holocaust survivors.