Celebrating Purim in Israel
Claims Conference in the Media | Press Inquiries | Publications | Videos | Updates
An incredible Purim party was held for Holocaust survivors and members of a supportive community at Beit Moriah in Be'er Sheva in Israel this week. In a bright room full of music and dancing, survivors came together to connect, remember and – above all – celebrate!
VIDEO: A Purim celebration hosted at at Beit Moriah in Be'er Sheva in Israel for Holocaust survivors.
In this community, the Claims Conference has been supporting the integration of survivors for many years. Creating these spaces and having events is more than just having a celebration – it is critical in the fight against loneliness and isolation many survivors feel. These gatherings and communities like Beit Moriah contribute greatly to a sense of vitality for each survivor. The many activities and programs together with the staff and volunteers are a breath of fresh air, especially after the pandemic when many survivors reported sadness and a sense of being alone. Integrated in the community, survivors and their cohort have access to exercise, crafts, classes, performances, trips and even services like psychological support when and where necessary. All of these are made possible by the dedicated staff of Beit Moriah.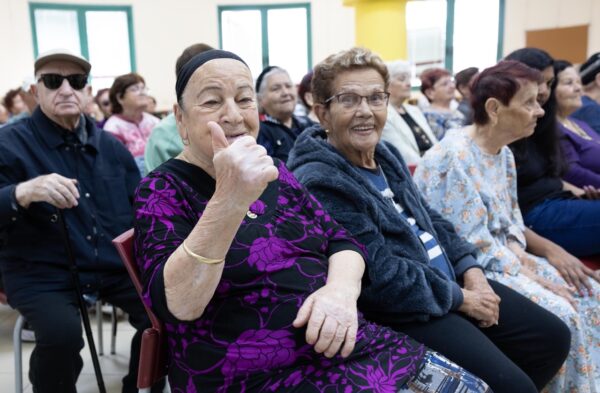 Rubik Danilovich, Mayor of Be'er Sheva sent a video message cheering on survivors, saying "Happy Purim to our dear and beloved survivors. May you smile all your life and be happy!"
These sentiments of joy were repeated by Ofir Sofer, Minister of Aliya and Integration in Israel. "I want to wish you much joy, health, happiness and longevity." His words were met with applause and the festivities continued.
Survivors were treated to the joyful music; well-known songs in Hebrew, Yiddish and even Russian evoked spontaneous dancing. Ziva Botushansky, an 88-year-old survivor, did not spare compliments about the activities she enjoys being a part of so much in a supportive community.
"Here we have dancing classes," Ziva said of the community she now calls home. "There is also a psychologist and very good gymnastics workouts as well."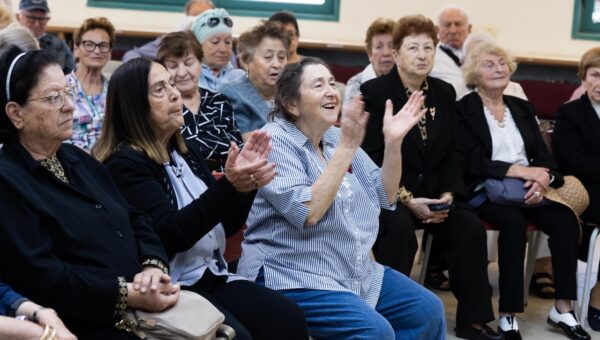 Ziva devoted most of her life to working with children with disabilities, giving to those who need help and the protection of the community. Today, Ziva and many of her fellow Holocaust survivors enjoy that same kind of support and proper integration in a community where they can all feel safe, which has contributed greatly to their health, longevity and happy hearts. The story of their lives serves as a living example of the power of resilience.
Claims Conference staff treated everyone present to traditional Mishloach Manot before the event was over. Claims Conference Social Welfare Programs Manager, Yaron Markus summed up Purim as a holiday of reversals, saying,  "On Purim we say, 'and it will be reversed,' and this is the sign that all the efforts of our enemies have not borne fruit and we will continue to celebrate life with all our might. Your victory is the greatest reversal that can be imagined."
We are so grateful to all of our partners at Beit Moriah for bringing so much joy and life to the survivors in their care. May we all celebrate every day with all our might!