A Rosh Hashanah Serenade
Claims Conference in the Media | Press Inquiries | Publications | Videos | Updates
---
"Since we're not receiving many visitors now, we were so happy to welcome guests here to dance and sing with us. The music made us very happy, and we are grateful that we have not been forgotten," said 87-year-old survivor Deborah Levy.
---
Residents of the Alma Nursing Home in Nof HaGalil, Israel, who are overwhelmingly Holocaust survivors, were visited by a special guest on erev Rosh Hashanah.
World-known Israeli singer Yoni Eilat treated the community to a joyful day filled with music. Eilat held a separate concert on each of the five floors to ensure that the residents celebrated safely. To the delight of the audiences, songs were performed in Hebrew and Yiddish.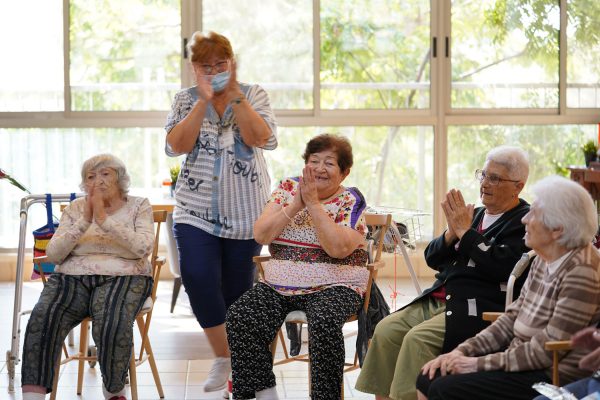 While the pandemic has adversely affected us all, it's had a disproportionate impact on the elderly. The six-month quarantine has taken a toll on their mental health with the extended isolation causing very real loneliness. The concert provided a much-needed respite for residents to smile and have a good time in a safe environment.
For over 20 years, the Claims Conference has been a supporter of Alma, an organization that provides a series of services for Holocaust survivors and the elderly. Recently, the Claims Conference is helping to expand the nursing home and other facilities, including the renovation of a department for the mentally frail. Despite the complications of the pandemic, construction continues and is expected to be completed by November. Netalie Banne, the Director of the Alma nursing home was even able to give a tour of the construction site to Shlomo Gur, Claims Conference Vice President for Israel and Yaron Marcus, Claims Conference Manager of Welfare Allocations in Israel.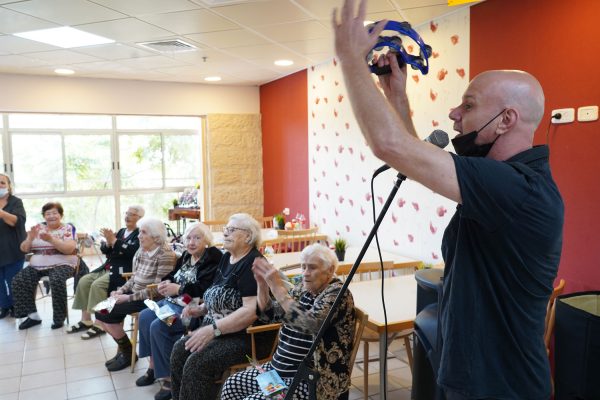 "After activating the emergency fund to provide an immediate response to the needs of the survivors due to the coronavirus outbreak, we continue to tend to their needs with a focus on their safety, as well as the staff's, alleviating loneliness, and ensuring food security to those living in their homes," stated Shlomo Gur. "Our top mission is to ensure that survivors live dignified lives and the connection to the community and the continuation of social and cultural activities are an integral part of this," he added.
This wonderful pre-Rosh Hashanah celebration in Israel is just one example of the many unique and creative ways we have been able to support survivors around the globe during this challenging period. As 5780 has come to a close, and we turn the page to the year ahead, we are reminded that we will always adapt to the challenges that are thrown our way.
On Rosh Hashanah it's customary to dip a piece of apple into honey as a symbol for a sweet new year. If we are trying to symbolize sweetness, why don't we simply eat a spoonful of honey? What is the significance of the apple?
Perhaps we recognize the idea that while we would prefer every moment be sweet, some factors are simply beyond our control. The only thing we can control is how we react to adversity.
We mourn the devastating losses over these past six months, pray for those who are ill and hold dear those who are lonely, scared or facing new adversities. For all those who we can help, we pour some honey on the sour apple. We must always try to view everything with a positive attitude and adapt to our circumstances – pushing ourselves to sweeten the lives of those who have endured so much.
We pray that this coming year is filled with health, happiness and dignity for all survivors worldwide.
Shana tova and g'mar chatima tova,
Greg Schneider
Claims Conference Executive Vice President