Claims Conference Announces New Board President
Claims Conference in the Media | Press Inquiries | Publications | Videos | Updates
Gideon Taylor Elected President; After Four Decades Of Service, Julius Berman Steps Down At The 2020 Annual Board Meeting
NEW YORK, NEW YORK: June 30, 2020
---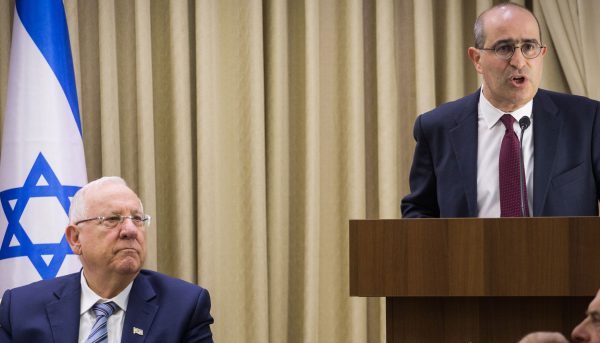 ---
Today, the Conference on Jewish Material Claims Against Germany (Claims Conference), announced that Gideon Taylor was elected President of the Claims Conference. The Board also bestowed the title of Honorary President on Julius Berman.
Roman Kent, Holocaust survivor, Chairman of the American Gathering of Jewish Holocaust Survivors and President of the International Auschwitz Committee, and one of the lead negotiators for the Claims Conference delegation to Germany for more than 25 years, said, "I have worked with Gideon Taylor for over two decades, both in negotiations with the German government and in developing allocation programs for Holocaust survivors throughout the world…I believe that his devotion to Holocaust survivors, his drive and commitment on their behalf and his deep experience dealing with the German, United States and other governments, as well as with the Jewish world, make him uniquely suited to serve as President of the Claims Conference, especially at this time of change and transition."
Claims Conference Special Negotiator, Ambassador Stuart Eizenstat said, "I have often worked side-by-side with Gideon in negotiations and observed his keen knowledge and sound judgment. Gideon is held in very high esteem by key government figures in the United States, Israel and in the many governments with which we deal. I believe that his exceptional ability and experience make him an excellent choice to serve as President of the Claims Conference."
Ambassador Colette Avital, Chair of the Center of Organizations of Holocaust Survivors in Israel and Claims Conference Secretary, noted the importance of choosing well a new president given the uncertain times currently unfolding around the world, saying, "This position will be even more critical in the years to come as we will no doubt have to face the challenges resulting from the Coronavirus pandemic." She went on to recommend Mr. Taylor wholeheartedly, adding, "Mr. Taylor brings with him the advantages of many years of valuable experience in the Jewish world, proven skills, energy and creativeness."
Mr. Taylor previously served as Executive Vice President of the Claims Conference as well as Associate Executive Vice President at the American Jewish Joint Distribution Committee (JDC), the overseas humanitarian arm of the American Jewish community. He directed rescue operations in Syria and Yemen and coordinated activities in Ethiopia. He also oversaw JDC's International Development Program, which implemented major disaster relief, and development programs in Africa, the Middle East and Europe. He subsequently managed the global program and the $250 million budget of the organization.
Originally from Ireland, Mr. Taylor is a law graduate of Trinity College in Dublin and received his master's degree in law from Oxford University. He is admitted as an attorney in the State of New York, Ireland and the United Kingdom.
In 2013, Mr. Taylor became pro bono Chair of Operations of the World Jewish Restitution Organization (WJRO), representing world Jewry in pursuing claims for the recovery of Jewish properties seized during the Holocaust in Eastern Europe. His work ensured the passage of legislation regarding heirless Jewish property in Serbia, former Jewish communal property in Romania and Latvia, and social welfare payments for Holocaust survivors from Poland.
Stefanie Seltzer, President of the World Federation of Jewish Child Survivors of the Holocaust and Descendants, herself a child survivor of the Holocaust, said, "Gideon has worked with the survivor community and has always been a zealous, enormously capable advocate on behalf of Holocaust Survivors. His help in negotiating for, and securing large amounts of money has made a great difference in the lives of survivors world-wide.
Sir Ben Helfgott, MBE, founder of the '45 Aid Society for Holocaust Survivors, a survivor of Auschwitz, board member and longtime member of the negotiating delegation for the Claims Conference, said, "I have seen first-hand his intelligence, creativity and tenacity – the results can be seen in the major international agreements reached as a result of his efforts. These agreements, involving hundreds of millions of dollars, have enabled many Holocaust survivors to live out their lives in dignity."
Jehuda Evron, Holocaust survivor, Board member and President of the Holocaust Restitution Committee, said, "Gideon works day and night for us the survivors and there is not one of our many problems that he doesn't address and does his best to solve. His exceptional dedication and outstanding devotion to our cause makes him the best candidate for the position of President of the Claims Conference."
Mr. Taylor succeeds Mr. Berman who has served as the President of the Claims Conference since 2014, and Chairman from 2002 to 2014, prior to which he served as the organization's pro bono Counsel. He has been a life-long leader in the Jewish community and has held a myriad of roles including Chairman of the Jewish Telegraphic Agency and the American Zionist Youth Foundation, President of the National Jewish Commission on Law and Public Affairs (COLPA), as well as the Conference of Presidents of Major American Jewish Organizations, where he was the first Orthodox lay-person to serve as President. Mr. Berman is Chairman Emeritus of the Board of the Rabbi Isaac Elchanan Theological Seminary (REITS) and is a member of the Board of Trustees of its affiliate, Yeshiva University. He is past President and current Honorary President of the Union of Orthodox Jewish Congregations of America. In 2014, Julius Berman presided over a Claims Conference process which instituted term limits of three consecutive two year terms for all Officers.
Previous Claims Conference Presidents include Dr. Nahum Goldmann, Rabbi Israel Miller and Rabbi Israel Singer.