New Online Video Series Provides Expert Guidance On Health & Well-Being For Family Caregivers Of Holocaust Survivors
Claims Conference in the Media | Press Inquiries | Publications | Videos | Updates
New Approaches Provide Vital Support for Non-Professional Caregivers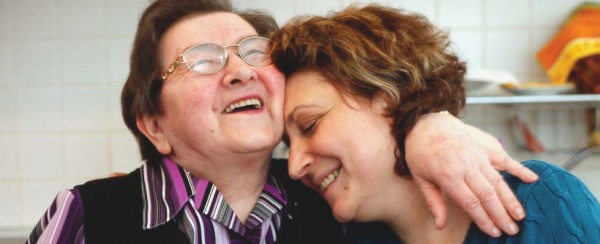 September 30 – The Claims Conference today announced the launch of its Caregiver Support Seminars, an online series of presentations providing advice and information to family caregivers of Holocaust victims, covering medical, emotional and legal concerns presented by health care specialists in fields ranging from gerontology and psychology to dementia.
The online video series is accessible for free to the public and can be conveniently viewed at home, at the office or on a smartphone or tablet. The series was created in recognition of the often overwhelming role of family caregivers of Holocaust survivors. Caring for an elderly loved one can be challenging under the best of circumstances, yet families of Holocaust survivors often face additional, unique challenges, which can become increasingly complex as survivors age.
The Claims Conference works hand in hand with social service agencies around the world to provide homecare, medicine, meal delivery, socialization programs and other assistance to enable 146,000 needy survivors to remain in their own homes for as long as possible – a primary goal of the organization. The Claims Conference collaborated with its extensive network of experts in various health and medical fields to determine the most relevant topics for family caregivers and to develop presentations, which have been hosted monthly by its partner agencies in New York and New Jersey.
"The idea for the online video series came about because we realized it was an easy way to bring the presentations we were sponsoring to the widest possible audience online and for free," said Claims Conference Chairman Julius Berman. "Caregivers for Holocaust survivors, no matter where they live, can benefit from the sound information we're providing."
The video seminars are each 30-40 minutes long. Presentations available to date include:
Hospice & Palliative Care for Survivors
Holocaust Survivors and Medical Issues
Caring for Holocaust Survivors with Dementia
Additional video presentations will be posted through 2014 and cover topics such as trauma, long-term care, as well as best practices for effective communication among caregivers, survivors and healthcare professionals.
"Many caregivers are often in the 'sandwich generation' with immediate families to attend to, not to mention full-time jobs, and the series offers a convenient way for someone to go online, at his or her convenience, and learn how they can best address the needs of an elderly loved one in their life," said Dr. Paula David, specialist in dementia in Holocaust survivors, University of Toronto. "As non-professionals, family caregivers are essentially navigating uncharted territory."
"This series is just fabulous," said Elisa Stern, LCSW, Director of Supportive Services at Bikur Cholim Chesed Organization's Project for Holocaust Survivors. "With the ultimate goal of improving quality of life for our beloved survivors, it addresses important issues on the minds of their family caregivers. Through the initiative, our agency has been able to bring in the very best speakers on each topic – which feels like a gift to our communities. And the fact that the series will be available online, makes it the gift that keeps giving!"
To watch the videos and find out about upcoming presentations, please visit the Caregiver Support Seminars webpage at www.claimscon.org/caregiverseminars.