Amb. Stuart Eizenstat to Serve as Claims Conference Special Negotiator
Claims Conference in the Media | Press Inquiries | Publications | Videos | Updates
This post is for historical informational purposes only. Please do not refer to this post for information pertaining to current Claims Conference programs. Visit What We Do for current program guidelines and information. Thank you.
November 4, 2008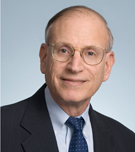 The Claims Conference is pleased to announce that Amb. Stuart Eizenstat has agreed to serve on a pro bono basis as Special Negotiator of the Claims Conference. In this role he will be responsible for external negotiations of the Claims Conference.
Mr. Eizenstat, a former U.S. Deputy Treasury Secretary, served as Special Representative of the President and the Secretary of State for Holocaust Issues during the administration of President Clinton. In that capacity he negotiated agreements with the governments and industry of numerous European countries that have resulted in some $8 billion in recoveries for victims of Nazism and their families, both Jewish and non-Jewish.
The involvement of Mr. Eizenstat as the representative of the U.S. government was pivotal to attaining the Swiss Banks Settlement; establishing the German Foundation to pay slave and forced labor claims; creating a forum for claims for unpaid life insurance policies of Holocaust victims; and compelling Austria to face its role in the Shoah. He acted as an invaluable intermediary among European governments and industry, Jewish organizations, and attorneys representing Holocaust survivors.
The agreement with Germany led to payments of DM 10 billion (approximately $5 billion) to over 1 million victims of Nazi persecution.
At the request of President Clinton, Mr. Eizenstat also directed the investigation that resulted in 1997 and 1998 U.S. government reports detailing for the first time how Nazi Germany looted some $4 billion in gold from the central banks of the countries it overran, and exchanged them for Swiss francs through the Swiss Central Bank, enabling Germany to purchase crucial raw materials and minerals from neutral nations to support their war effort. Mr. Eizenstat also was the key negotiator for the 1998 Washington Conference endorsement of 11 principles to guide the return of looted art.