Claims Conference Increases Allocations to Assist Jewish Victims of Nazism Worldwide, Expanding Social Services
Claims Conference in the Media | Press Inquiries | Publications | Videos | Updates
This post is for historical informational purposes only. Please do not refer to this post for information pertaining to current Claims Conference programs. Visit What We Do for current program guidelines and information. Thank you.
July 16, 2008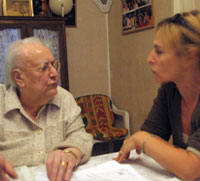 A June 2008 report by Myers – JDC – Brookdale Institute projects that in 15 years, the number of Nazi victims in Israel still eligible for homecare under current criteria will be 77% of the 2007 number. The report shows that as survivors get older and sicker, their needs will become greater.
At its annual meeting July 8-9 2008, the Claims Conference Board of Directors approved a plan to increase its overall annual allocations from various sources and also approved a multi-year allocation plan, following a review of current and future needs and resources.
Total allocations by the Claims Conference will increase to $193 million in 2009 from $170 million in 2008, expanding services for Nazi victims worldwide. Allocations are primarily from the funds of the Successor Organization. The Board also unanimously approved an overall multi-year plan to distribute approximately $135 million a year primarily from funds of the Successor Organization over the next 5-7 years. This is based on current Successor Organization funds available and projected income of the Successor Organization. It represents an increase in Successor Organization allocations of $25 million from 2007 in order to replace humanitarian funding from the International Commission on Holocaust Era Insurance Claims, which has now been distributed.
Successor Organization funds are primarily for social welfare programs and institutions aiding Jewish victims of Nazi persecution in more than 40 countries. The amount to be allocated from the Successor Organization for programs of Shoah research, documentation or education for the period commencing July 10, 2008 will be up to $18 million per year. This amounts to 20 percent of the earlier annual allocations of $90 million per year and will now be 14 percent of the planned Successor Organization allocations for 2008-2012.
In addition to allocations from the Successor Organization, the Claims Conference allocates funds for social welfare services from the German government, the Swiss Banks Settlement, the "Hungarian Gold Train Settlement", and the Austrian government.
The Board also resolved that intensive efforts should continue to be made to expand and extend funding to meet social welfare needs of Nazi victims from all other sources, including the German government, the Israeli government, other restitution sources such as the Israeli Company for Restitution of Holocaust Victims Assets and the Romanian Foundation, and philanthropic sources.