Survivor Story: Sara Miskatel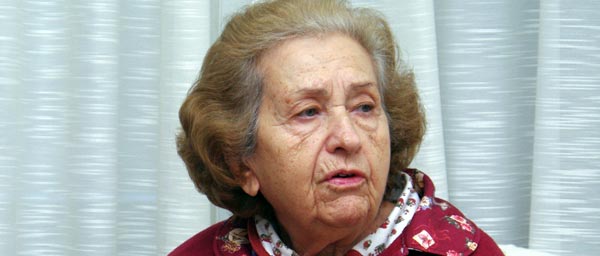 Sara Miskatel, recovering from a broken arm and leg, anxiously awaits her pension payments from the Claims Conference, which helps her to pay for a now-necessary homecare aide in the midst of Greece's economic catastrophe.
Sara, a lively Athenian of 84, fell recently in her simple, spotless apartment. She also had a pacemaker implanted in February. She lived alone until these setbacks, but now she's had to hire an aide who comes for three hours each day. It's a source of anxiety and stress for Sara to find the money to pay for this necessity.
The ongoing Greek economic crisis is a tragedy for elderly Nazi victims in that country. Sara's monthly government pension has been slashed by 30 percent, to €308. Sara has received a pension from the Claims Conference's Article 2 Fund since 2006, which now pays €320 a month, because of her wartime experiences. These two payments, totaling €618, are Sara's only monthly income.
The Claims Conference has doubled its allocation to the Central Board of Jewish Communities in Greece, which uses the funding to provide emergency assistance to Sara, partially paying for her homecare aide's cost of €400 a month. But Sara must pay the balance.
Sara can't manage without her aide, who cleans Sara's wounds, washes her in the shower, shops and cleans the apartment, and prepares meals.
During the Shoah, the majority of Greek Jews were deported to concentration camps. But Sara and her family fled Athens in time, and hid in the mountain suburbs. Non-Jews helped the family to move from place to place, never staying in a house more than a week, Sara remembers.
Every day had the possibility of danger. A German soldier once discovered Sara hiding in an attic. The Nazi put his pistol in her mouth, preparing to shoot her. In a quick-thinking moment, the teenager made the sign of the cross over herself, which saved her life, as the Nazi thought she was a Christian.
Another time, Nazis entered a house where her brother was hiding in the attic. At the same moment, the boy made a noise, which the soldiers heard. Sara quickly told the Germans that the storm overnight must have ruined the attic – and the Nazis lost interest. "It was a miracle," she said.
Sara and her husband, also a Greek survivor, married after the war. The couple never had children, a result of medical experiments performed on him during the Shoah. They lived in Israel for 15 years until he died 29 years ago, when Sara returned to the land of her birth. She still speaks fluent Hebrew, and has pictures of Jerusalem and other scenes of Israel hanging on the walls of her apartment.
Sara is grateful for the help she receives from the Claims Conference. The children of her brother, who died last year, also help her financially, and she cries with emotion when she talks how important the money is to her. Still, she waits for her Claims Conference pension payments with great anxiety.