Dr. Charlotte Knobloch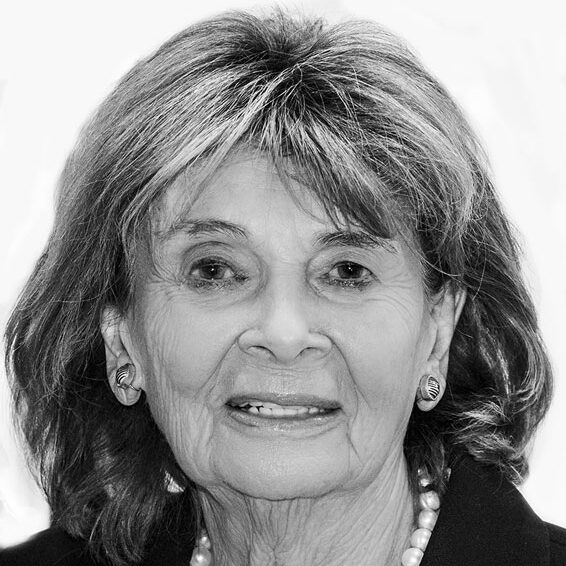 Charlotte Knobloch (née Neuland) was born on October 29, 1932, in Munich, Germany, to affluent Jewish lawyers. Raised by her grandmother following her parents' divorce, Knobloch knew antisemitism from a very young age. She spent the night of Kristallnacht on the streets of Munich with her father in fear that the Nazis would target their home given her father's prominence. She remembers the noise, the shouting, the smoke billowing from the windows of her local synagogue, and remembers seeing Nazi Storm Troopers dragging a neighbor from his home, blood slick on his face.
After a handful of years of anguish, anxiety, and fear, an edict was passed demanding that children and the elderly be sent to Theresienstadt. For their family, that meant either nine-year-old Charlotte or her beloved grandmother. Her grandmother told Charlotte that she was going to a health spa for treatment, but the unspeakable truth was apparent: she had taken Charlotte's place. If it weren't for her grandmother's heroism, Charlotte Knobloch would not be with us today.
Shortly thereafter, little Charlotte was confronted with the most difficult moment of her life: saying goodbye to her father, perhaps for the last time. Her father sent her to live on a rural German farm run by a selfless Catholic maid formerly employed by her uncle to hide for the duration of the war as a Christian. 
Years of despair and crushing uncertainty followed until one miraculous day at the end of May 1945, her father appeared. She could immediately see the toll that the war had extracted from him: he was battered and weak, but he was alive. Reunited, they returned to Munich where Charlotte learned that so much of her family had perished.
Contrary to what she envisioned for herself, Knobloch remained in Germany, eventually becoming a leader in the Jewish community of Munich and Upper Bavaria and dedicating her life to combating antisemitism. She served as the President of the Central Council of Jews in Germany, Vice President of the European Jewish Congress, and is the World Jewish Congress Commissioner for Holocaust Memory.