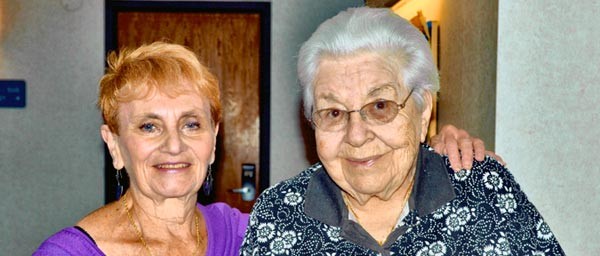 As a little girl in Germany, Hanna Schwarz had everything a child could want. But by the time she was a teenager, Hanna was scrubbing the fireplace stones in a house in England, where she was sent as part of the Kindertransport operation.
Now 90, Hanna lives alone in a Minneapolis apartment, thrilled to see her social worker, and wistful that she doesn't have more friends to visit her.
Hanna grew up in a big house in a small town in the Pomerania region of Germany. Her father was a grain merchant, and Hanna and her brother grew up with servants at home and horses to ride. But when the rumblings of war came, 16-year-old Hanna's beloved "very strict, but very good parents" put her on the Kindertransport to England. She received letters from her parents through the Red Cross until they stopped coming.
She stayed for four years with a Quaker family, who were "very good to me, but it's away from home," Hanna remembered. She had to learn English and had to learn how to be a housemaid. One of her most vivid memories, decades later, is that she had to learn to polish the fireplace stones. "But you learn if you have to," she said.
Hanna studied nursing and became a licensed practical nurse, first tending to soldiers in a hospital in England, then working in the United States in hospitals with newborns and with the elderly. "Nothing in between," she said with a smile.
When she was 20, she came to the United States, staying with her aunt and uncle in Minneapolis.Hanna met her husband, Jack Lyon, through one of the young mothers while she was tending to the babies.
In 2011, Hanna moved to an apartment, leaving her home of 50 years, where she and her husband raised their two daughters. Now, one daughter and her family live in the house, which is nearby. Her other daughter, a teacher, calls every morning.
Hanna receives assistance from Jewish Family and Children's Service of Minneapolis (JFCS), which receives funding from the Claims Conference. A volunteer telephones Hanna once a week to check in. She also has a homecare aide who comes once a week for two hours, and Hanna refuses more help. "I have to be a little bit active, but I'm not," Hanna said. "I do the best I can."
Hanna chafes at the rules in her new senior-living apartment complex, and misses the days when she could do what she wanted. She likes to sit in a chair in her living room and look down on a duck pond outside her window. Hanna is as independent as she can be, but she uses a walker to get around, and it's difficult for her to go outside. About six or seven friends from her old neighborhood visit once a week for an hour, and it's a lifeline for her, she said.
Hanna feels her solitude deeply, missing her husband, who died in 1991. "You are alone and don't know to whom to talk," she said of her situation. "You have friends, but it's not like family."
JFCS Case Manager Lynne Lee has worked with Hanna for about five years and it's clear the women like each other. Lynne urges Hanna not to feel guilty if she wants to call on the telephone to talk because she's lonely. "I'm always looking forward to seeing you," Hanna said to Lynne on a recent visit.
The assistance Hanna receives from JFCS, including the friendship of her case manager, allows her to remain as independent and comfortable as possible in her new surroundings.