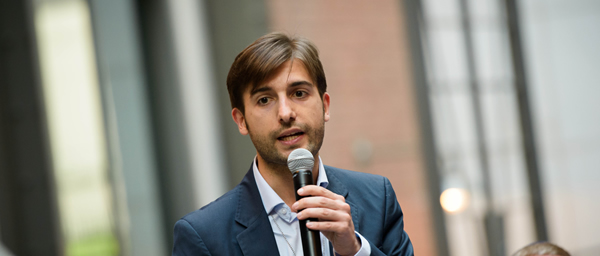 Luca Fenoglio's interest in the Holocaust started when he was growing up in Italy. "As a teenager, I found several books on Nazi Germany, Fascist Italy and the Holocaust in my father's library," Luca recalled. "As I started reading, I realized that the path that led to the murder of millions of Jews during the war was much more complex and twisted of that which I was expecting. But this complexity and the seeming lack of sense of the events aroused my interest and intellectual curiosity. And when I had to choose my field of specialization during my master's degree studies at the University of Turin, it was almost natural for me to choose the history of the Holocaust."
Luca is now a Claims Conference Kagan Fellow at the University of Edinburgh, Scotland, where he is a candidate for a Ph.D. in History. His dissertation focuses on the region of southeastern France that was occupied by the Italians between November 1942 and September 1943.  His research "investigates the policy that the Fascist government adopted towards non-Italian Jews," he said.
The Saul Kagan Fellowships in Advanced Shoah Studies support selected Ph.D. and postdoctoral candidates around the world who are conducting advanced Holocaust-related research. Seven Ph.D. candidates and two post-doctoral students were named this past April as the latest cohort of Kagan Fellows for the 2015-2016 academic year.
"As in Italian-occupied Croatia and Greece, the Italian government in southern France refused to hand over to the Nazis foreign Jewish refugees in its occupation zone, thus saving them from deportation and certain death. With my research I seek to reach a deeper and more nuanced understanding of the complex Italian rationale for that decision," Luca said.  "In particular, I show that the Italian refusals to take part in the extermination of Jews were consistent with, rather than in opposition to, the aims and praxis of the racial persecution that the Fascist regime launched and thoroughly enforced in Italy as of 1938."
Luca says he hopes his research will help scholars understand fascist persecution "in the broader European context of the Holocaust, while also casting new light on the specific features of that persecution before Mussolini's fall and the following creation of the Italian Social Republic in September 1943," he said.
Luca presented his research at the 2015 Kagan Fellowship Summer Workshop, held in June 2015 at the U.S. Holocaust Memorial Museum in Washington, D.C. "The Kagan Fellowship Summer Workshop was a very productive and informative week," Luca said afterwards. "I had the privilege to present my current research project in front of established scholars and Kagan Fellows. Their comments and remarks will help me better develop my arguments, while also giving me a sense of how my research and findings will be received by other scholars in the field. It was an enriching experience, both on the academic and personal level, and I look forward to presenting again in Jerusalem next year."