Important Announcement Regarding the Hardship Fund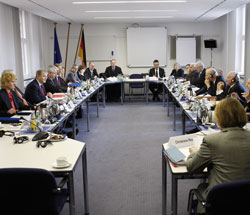 The Claims Conference Negotiating Delegation met with officials from the German Ministry of Finance.
Claims Conference Negotiations with Germany Secures Hardship Fund Re-Application from Prior Ineligible Victims
19 March, 2009 – Negotiations were held today in Berlin between the German Government and the Conference on Jewish Material Claims Against Germany (Claims Conference). During the course of the negotiations the German Government agreed to the longstanding demand of the Claims Conference that applicants to the Hardship Fund, who upon the date of filing their application to the Hardship Fund were found not eligible, now be given the opportunity to submit a second application. Relevant for the decision of these applications is the current situation of the applicant both as it relates to the applicant's current age and physical condition as well as any new historical evidence that has become available.
This decision of the German Government will affect thousands of applicants to the Hardship Fund in 36 countries worldwide who, if their conditions have changed, may now be eligible for a one-time payment of €2556.Potentially eligible Nazi victims who do not receive a letter from the Claims Conference are asked to contact the Claims Conference in order to commence a second application. Up to now, once a final decision had been made on a case, a second application was not permitted under the German rules based on changed circumstances. This decision affects Nazi victims rejected by the Hardship Fund who are alive as of 19 March, 2009. If a Nazi victim who was rejected by the Hardship Fund is alive as of 19 March, 2009, but dies later the widow/widower or if he/she is deceased his/her children can apply for a second application prior to 31 December, 2010.
A copy of the criteria of the Hardship Fund can be found at www.claimscon.org.
All changes apply only to persons who did not previously receive a payment from the Hardship Fund. It is NOT possible to receive a second Hardship Fund payment.