Claims Conference Serves Largest Population of U.S. Survivors in Partnership with Selfhelp Community Services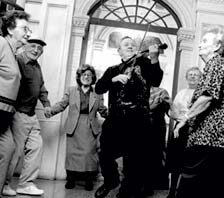 Selfhelp Community Services in New York hosts Nazi Victim Services coffee houses; at the one shown above, a musician plays music from the "old country" for participants.
Largely because of its longstanding partnership with the Claims Conference, Selfhelp Community Services of New York City has been able to remain at the forefront of efforts to respond to the changing needs of Holocaust survivors who live in the New York metropolitan area. Substantial Claims Conference funding has made it possible for the organization to expand its services to address the needs of the largest population of Jewish Nazi victims in North America. Half of all survivors in the U.S. live in the New York area, with 35 percent of all U.S. Jewish Nazi victims residing in Brooklyn.
Selfhelp was founded in 1936 to help the waves of émigrés from Nazi Germany find employment, housing, and a meaningful new life. In the years that followed, Selfhelp provided Nazi victims with housing assistance, help with employment, vacation opportunities for children and elders, and home care. As the survivor population aged, new services were needed. Today, Selfhelp cares for a greater number of Holocaust survivors than any other organization in North America.
Survivors who have been remarkably resilient and independent throughout their lives may now find themselves in need of social service assistance due to aging. Many are without family support as their families were decimated by the Holocaust. For others, the recent loss of a spouse has deprived them of social interaction and financial independence. Of the more than 2,700 survivors served by Selfhelp's Nazi Victim Program over the past year, 529 came to Selfhelp for the first time.
Selfhelp Community Services operates six community-based social service programs for Holocaust survivors in Manhattan, Brooklyn, Queens, the Bronx, and Nassau County. With Claims Conference funding, the number of hours the agency has devoted to serving Nazi victims has increased by more than 50 percent from 1999 to 2003.
The primary service for most Selfhelp clients is expanded case management, an intensely individualized process designed for Holocaust survivors that includes home visits, counseling, assistance with benefits and entitlements, home care services, and financial management.
Selfhelp services provided to Holocaust survivors with Claims Conference funding include:
• Homecare services: Staff housekeepers provide Holocaust survivors with light housework, shopping assistance, laundry, and escort service. The housekeepers are key members of case management teams and are a primary source for information regarding any deterioration in a client's health condition. During the past year, Selfhelp provided a total of 4,744 hours of subsidized home care in addition to over 13,000 hours of housekeeping and chore care to victims of Nazi persecution.
• Financial Management: Following a thorough assessment, survivors are given the level of help needed, including, when appropriate, a court appointment of Selfhelp as the client's guardian.
• Social Programs: As isolation is a major issue for Holocaust survivors as they age, Selfhelp designed social programming that encourages a sense of community. Among Selfhelp's most popular programs are its Coffee House gatherings that facilitate socializing in a supportive environment. Visiting with old friends and meeting new ones, sharing memories, enjoying tasty desserts, and listening to familiar music all do a great deal to enrich participants' lives. Meetings are held locally in synagogues and community centers and feature refreshments and entertainment meant to remind participants of life in their home towns before the onset of Nazi persecution. During the past year, attendance at Selfhelp social programs was more than 5,000.
• Volunteer Services: Selfhelp volunteers assist at Coffee House events, make friendly visits to Selfhelp clients' homes, and serve on a variety of advisory committees. Volunteers also make scheduled "friendly visits" by telephone to homebound clients. These calls provide socialization, communication, and community involvement. An adjunct to Selfhelp's volunteer program is its participation with Action Reconciliation Service for Peace, a program through which young Germans serve in communities affected by the Holocaust around the world. For the past seven years, volunteers from this organization have each given 18 months of service, including weekly chore assistance and friendly visits, to Selfhelp's Nazi victim clients.
• Emergency cash assistance: To cover situations ranging from medical emergencies to rent assistance to purchasing air conditioners and making heating and plumbing repairs.
In its newest program, Selfhelp is administering a Claims Conference-funded emergency financial assistance program for Austrian Nazi Victims throughout the United States and Canada. The total project budget is approximately $3.8 million over two and a half years. Individual Austrian Nazi victims can apply for these funds through their local Jewish Family Service agency (except in New York City, where they will apply directly to Selfhelp). The program began in July 2003. Selfhelp expects to distribute roughly $1.5 million in the first year.