Chicago federation reaches out to community to aid survivors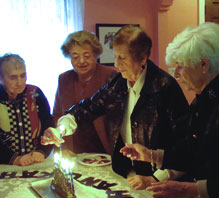 Survivors enjoy a Chanukah celebration sponsored by HCS
Without help from Holocaust Community Services (HCS) in Chicago, Giszel Szackamer, 74, would not be able to take care of her husband, 86-year-old Wolf, a survivor who is suffering from Alzheimer's disease. They receive help with homecare, medical and other expenses, as well as meals delivered three times a week.
"It's practically saving our lives," Giszel says. "I can't do it on my own."
Born in Romania, Giszel was sent during WWII on a march to Ukraine with her mother and two older brothers. For four years, they went from village to village, while her father toiled away in a labor camp. Giszel, her mother, her father, and her brothers were all lucky enough to survive, but were only reunited in Israel shortly after its declaration of independence in 1948.
In 1958, Giszel was sent to the United States for surgery on her leg, which had been broken during her marches through Ukraine years before. She's had 25 surgeries and still bears the physical scars of those marches. In 1967, she returned to the United States with her husband-to-be Wolf, whom she had met in Israel. Now, the retired bookkeeper takes care of Wolf as best she can with the help of HCS.
"I couldn't do it without the help that I get through [HCS]," Giszel says. "It would just be impossible."
The Szackamers are just two of the 350 survivors in the Chicago area who receive aid from HCS, supported by the Claims Conference. With restitution-related sources of funding declining, HCS has received a new fundraising push from the Jewish United Fund/Jewish Federation of Metropolitan Chicago's Women's Division to help the organization continue caring for the city's survivor population, who will continue to need assistance for many years to come. The Women's Division has raised more than $200,000 for the organization since launching its campaign in the fall, says Audrey Cantor, HCS's director.
"We are concerned about ensuring the availability of resources to meet the demand," Audrey says, noting that Chicago has one of the youngest survivor populations in the country, including many child survivors. "The federation wants to continue to provide services as long as they're needed."
HCS is dedicated to helping survivors remain in their homes, providing homecare, transportation, in-home meal delivery, help with medical costs, adult day care, counseling, and other urgent needs. "They are dealing with long-term health consequences of having survived and we want to keep them out of institutions as long as possible," Audrey says.
For some, like Toby Nudelman, a survivor in her 90s, HCS provides emotional support. Toby lives by herself and struggles with memories of losing her parents, brothers, and sisters during the Holocaust. Sitting at home alone is depressing, she says, and HCS provides outlets for her to be around others.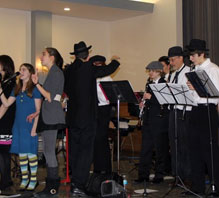 A klezmer concert for survivors at a HCS-sponsored Cafe Europa.
"If they can help me, they do," she says. "They're very nice to me. They come to talk to me."
Contributions can be made directly to HCS. "We felt this was a way the community could help support this wonderful program," says Mally Rutkoff, chair of HCS's leadership council, a past Women's Board campaign chair, and herself the child of Holocaust survivors.
Mally first raised the idea of Women's Division fundraising for HCS in early 2010. Since then, she says, there has been a greater community awareness of HCS aid to survivors. "We are just telling the story," she says.
"It's so important because we have survivors living in our community whose needs are increasing," Audrey says.
HCS is a joint project of the Jewish Federation of Metropolitan Chicago, Jewish Child and Family Services, and CJE SeniorLife, in partnership with HIAS Chicago. For more information, call (847) 568-5100 or visit www.jcfs.org/p_program.cfm?cat=sc&id=11.