Claims Conference Funds Reach Nazi Victims Across Russia
Today, many aging Holocaust survivors in the former Soviet Union struggle with medical costs and loneliness but live out of reach of major metropolitan areas like Moscow and its services. It is important that Claims Conference funds reach as many Nazi victims as possible, and organizations like Hesed Nechama use that funding to provide lifelines for oft-forgotten survivors in small towns and cities around Russia.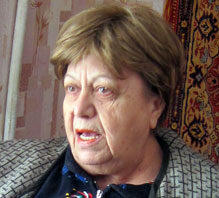 Svetlana relies on the homecare worker and other benefits that the Hesed provides.
Svetlana Akhverdyan
About a six-hour drive from Moscow is the city of Lipetsk, where Hesed Nechama provides homecare, medicine, and food to elderly Jews, including Nazi victims like 74-year-old Svetlana Akhverdyan. Living alone with limited mobility because of sores along her legs, Svetlana relies on the homecare worker and other benefits that the Hesed provides, with funding from the Claims Conference.
Svetlana was born in Leninakan, Armenia. Her father served in the Russian army, while her mother worked as the director of an army cinema storage facility. The family lived in Russia's Rostov region until the war, and in 1942 they were evacuated to Leninakan. The way people hid her and her family during the war and took care of them made her a patriotic Russian, Svetlana says. After her mother was diagnosed with Multiple Sclerosis in the 1960s, Svetlana returned to Armenia to take care of her until she passed away 20 years later. During that time she taught in local elementary schools, a profession she continued in after she moved back to Lipetsk in 1989.
Svetlana never married and has no children, and today lives alone in a room in a dormitory. A homecare worker helps Svetlana move around her home because she can barely walk on her own and needs help with personal hygiene as well. In 2003, Svetlana began receiving assistance from the Hesed to help pay for her utilities, medicine, and food expenses, which average about $210 a month. She also receives homecare and food assistance. She had been receiving food packages from the Hesed because she has trouble leaving her home, but now that the agency is using food cards to allow more selectivity for clients in grocery stores, Svetlana's homecare worker goes out shopping for her.
Despite her health problems,Svetlana continues to have an awe-inspiring zest for life. She enjoys crossword puzzles, but only those found in the local newspaper because they offer prizes; she has a collection of books that she has won through the contests. Svetlana also likes that the puzzle-makers market the crosswords as being for only the smartest people, so she feels she has to do them. Svetlana's homecare worker regularly brings her new crossword puzzles and the two of them have developed a real friendship; they often tease each other and the homecare worker goes out of her way to get Svetlana her crosswords and do other little things for Svetlana beyond her regular duties.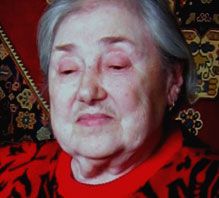 Elena is one of the 860 Nazi victims in Voronezh who receive aid from Hesed Nechama.
Elena Katseylichich
When Elena Katseylichich broke her hip five years ago, she found she could no longer move around her home in Voronezh, Russia as easily as she once had. Even the simple act of sitting down on her sofa became difficult because of its height. Hesed Nechama sent someone to Elena's home to adjust the sofa's height and provided her with a walker to help her move around. More importantly, Elena says, people from the Hesed came to visit her. Elena is glad she is a Jew, she says, because that means she has the Hesed to help her.
Elena is one of the 860 Nazi victims in Voronezh who receive aid from Hesed Nechama. Elena was born in 1930 in Priluki, Ukraine. Her father served at the front in the Russian army, while Elena, her mother, and her grandmother were evacuated to Kazakhstan in 1941.They returned to their hometown in 1944, and Elena later went to a music school. She spent 40 years working with the Voronezh Philharmonic as an administrator and music teacher.
Elena is now divorced and has two grown children, one of whom lives in Voronezh and calls twice a day.Elena retired at 70 and her ex-husband referred her to the Hesed in 1999. Elena is mostly blind now and has trouble walking; she only goes out with her homecare worker, Sveta, with one hand holding her aide and the other her walker. Last year Elena had a heart attack and now relies on Sveta to help her get around. Elena receives a monthly pension of $442, which she uses to cover her utilities, medicine, and food expenses of at least $225 a month. She received new glasses through the Hesed's SOS emergency assistance program and she receives homecare services as well. In gratitude to the Hesed, Elena uses her connections with the Philharmonic to arrange concerts for other Hesed clients. Though she cannot enjoy the concerts herself, she is happy to arrange them for others; she sees it as her way of repaying the Hesed for all it has done for her.