Romanian Survivors Rely on Aid to Survive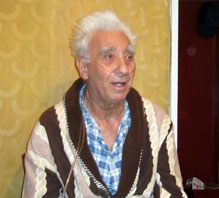 Devy and his wife suffer from numerous health problems. Emergency assistance from Claims Conference-funded agencies helps provide them with the homecare and medical assistance they need.
Decades after Devy and Cecilie Abraham struggled to survive the Holocaust life has been anything but easy for the couple from Galati, Romania.
In 1941, at the age of 8, Devy was deported with his mother, father, and brother to the Kopaigorod ghetto in Transnistria, and then to the Halcinet ghetto. His father was murdered in Nicolaev. Starving, Abraham, his brother, and his mother were forced to drink from rain puddles to survive. As the end of the war neared, they were taken to a mass grave where his mother was shot in the back and he was hit in the leg. They were saved by nearby villagers, however, and returned home in 1945.
Cecilie, born in 1933, had her childhood cut short when she and her mother were forced into slave labor, working on building sites around Galati County.
The Abrahams' only child passed away five years ago from cancer and, shortly afterward, Cecilie lost her eyesight. She now suffers from Parkinson's disease, which limits her mobility and prevents her from even feeding herself. Cecilie needs help with basic activities of daily living, and she is partially deaf.
Devy has difficulty speaking and tires easily. He suffers from a number of cardiac problems and high blood pressure. He has been to the emergency room twice in recent months because of heart disease, and one of his lungs has shut down, forcing him to rent an oxygen machine for his home.
To help cover their expensive medical needs, the couple receives emergency assistance from the Romanian Jewish Federation, FEDROM, funded by the Claims Conference. Cecilie also receives desperately needed homecare a month from FEDROM. A few years ago, the Claims Conference significantly increased its funding to FEDROM for Nazi victim services in Romania because of difficult economic conditions caused by the global recession.
In addition, Devy receives a monthly pension through the Claims Conference Central and Eastern European Fund. With these payments and the assistance it supports, the Claims Conference hopes to bring a small measure of justice to the Abrahams and help them live out their final years with added dignity and comfort.